(CNN) -- American Muslims reacted enthusiastically to President Obama's much-anticipated effort to "reboot" relations with the Islamic world Thursday, while the U.S. Jewish community gave his speech mixed reviews.
President Obama urges a new chapter in ties between the U.S. and Muslims in a speech Thursday in Cairo, Egypt.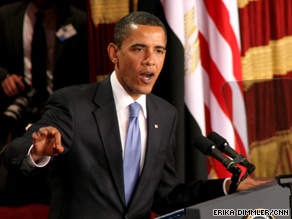 President Obama urges a new chapter in ties between the U.S. and Muslims in a speech Thursday in Cairo, Egypt.
Khadija Athman, a member of the Muslim community in Washington, said she is always impressed with Obama, but she had never been more surprised by him than she was Thursday.
"I felt he was extremely candid. He didn't mince words. He touched every aspect of Muslim world issues," said Athman, who is originally from Kenya, where Obama's father was born.
"He talked about women's rights, he talked about religious tolerance, he talked about education for women, and I feel very strongly about those issues," she said.
He also got the details right, she said, pointing out that he used the traditional Muslim phrase "peace be upon him" when referring to the Prophet Mohammed.
"It is expected of him, but the fact that he did it, people would love it," she said an Iraqi friend told her. "That will resonate extremely well and people actually will believe in Obama's sincerity."
Shahed Amanullah, editor of the Web site altmuslim.com, said he thinks Obama "accomplished exactly what he needed to accomplish" with his speech in Cairo, Egypt.
"He was really pressing for people to say in public what they say in private. Everybody knows what the solutions to a lot of these problems are and I think there is vast agreement on what they are going to be. But nobody really talks about it and puts the cards on the table," said Amanullah, of Austin, Texas.
Asma Hasan, a lawyer in Denver, Colorado, and the author of "Red, White and Muslim: My Story of Belief," agreed, but said Obama now needs to move quickly to turn words into action.
"I think Obama, better than any other recent political figure, gently asserted that effort will be expected from Muslims, too," she said. "Hearing the most powerful man in the world acknowledge their grievances in so public a manner will make Muslims very receptive to Obama for at least a few months."
Obama's understanding of Muslims will help clear the way, she said.
"When he started his speech by pointing out that Muslims had suffered under colonialism and globalization, I knew he was on the right track. So many Westerners gloss over these major historical events and ignore how hard it has been for Muslims," she said by e-mail.
Mona Eltahawy, an Egyptian-born columnist who moved to the United States nine years ago, wanted more from the speech.
"I would've liked to have heard more about civilian casualties and suffering in Pakistan and Afghanistan, because that upsets many Muslims as much as Palestinian suffering does," she said. "And I also wish he had assured Muslim women and girls in Afghanistan that their rights would not be sacrificed for the sake of a cease-fire or truce with the Taliban or other violent extremists."
She also would have liked him to press harder for democracy in the region.
"Muslims around the world are upset with the U.S. because the U.S. supports dictators in many Muslim-majority countries such as Egypt, where Obama gave his speech today, and Saudi Arabia, where he began his Middle East visit. So I was disappointed that he didn't say anything about that support that inflames Muslim sentiments as much as the Israeli-Palestinian conflict does."
James Zogby, president of the Arab American Institute in Washington, admired the way the speech was "designed to address a wide range of problems across a broad region."
"In speaking with friends in the Middle East this morning, I was impressed how many parts of the speech resonated. Everyone could take away something -- peace activists, advocates for democracy and women's rights, religious minorities, etc. In that regard, the menu worked," he said in an e-mail.
But the very breadth of the speech may make it harder for the message to get across at home, Zogby said.
"There was so much to the speech that its central thrust will be lost here in the U.S.," he said.
"Listening to some of the commentators on TV this morning was troubling," he said. He was concerned that they were "totally missing the point that this president wasn't talking 'at' Muslims, he was working to engage 'with' them. I fear that what may be lost is the fact that the president was also talking to us" in the United States "about what we need to know about Islam and our relationships with the many parts of the Muslim world. Fixing our side of this divide will take some work."
Obama did not shy away from discussing the Israeli-Palestinian conflict, a flash point for tensions in the region. American Jews responded cautiously to the speech, in which a U.S. president referred to "occupation" and "Palestine."
Malcolm Hoenlein, executive vice chairman of the Conference of Presidents of Major American Jewish Organizations, is well-placed to hear different viewpoints because his organization represents several groups.
Hoenlein cited important human rights references in the speech and thought the comments on the strong U.S.-Israeli relations and Obama's commitment to Israel were very positive.
But he said there were omissions in framing the history of the region.
Arabs, he said, weren't the only people who were displaced from their homes when Israel became a country in 1948. He cited Jewish refugees who found their way to Israel after they had been driven out by Arab countries.
Also, he said, there was no acknowledgment of the potential agreements with Israelis that were spurned by Arab leaders. He said there was no reference to Syria, Lebanon's upcoming elections or Hezbollah.
Hoenlein was pleased that there was no linkage between the Iranian issue and the Israeli and Palestinian conflict, but he didn't think Obama delivered a strong message about the dangers of a nuclear-armed Iran.
Some people Hoenlein heard from said they were angry about the speech and others praised it, he said.
At least two groups that are part of the conference of presidents weighed in.
The Anti-Defamation League, the U.S. group that monitors and fights anti-Semitism, said Obama's speech was "groundbreaking and honest," but the president "missed an opportunity" to place the Israeli-Palestinian conflict in proper historical perspective.
Glen S. Lewy, the league's national chairman, and Abraham H. Foxman, its national director, issued a statement saying the speech touched on "many important issues -- human rights, education, democracy, the need to deal with Islamic extremists -- with candor."
"He issued a clarion call for recalibrating America's relationship with the Muslim world through constructive outreach and dialogue. Speaking directly to the Muslim people, he broached issues that have never really been addressed to the Arab world before now. We share the president's genuine quest for respect, tolerance and peace," the statement said.
Lewy and Foxman also said they are willing to give Obama's "approach a chance to work and we are waiting to hear a response from the moderate Arab states. It will be interesting to see how the Muslim world reacts to the speech."
But the Anti-Defamation League said Obama should have mentioned that "six Arab nations attacked Israel from day one and the occupation of Palestinian land was a product of Israel's wars of self-defense."
"While strongly reiterating the importance of America's relationship with the state of Israel and articulating Israel's right to exist, President Obama missed the opportunity to address the misperceptions in the Arab world and to make clear that the Palestinians would have had a state had they accepted the United Nations resolution in 1948," the group said.
The group noted that Obama denounced anti-Semitism and Holocaust denial but didn't make clear "that Israel's right to statehood is not a result of anti-Semitism and the Holocaust."
It also expressed "disappointment" that Obama "found the need to balance the suffering of the Jewish people in a genocide to the suffering of the Palestinian people resulting from Arab wars."
The American Jewish Committee, a group dedicated to safeguarding Jews and Jewish life, welcomed the speech, praising the rejection of anti-Semitism and embracing Israel's legitimate right to exist.
"In the heart of a region where denial is routine -- denial of Israel's right to exist, denial of the historic link of Jews to their homeland, denial of the Holocaust -- President Obama spoke the truth with a clear, unwavering voice," said David Harris, the committee's executive director, in a news release.
Harris praised Obama for pursuing "a negotiated settlement to the Israeli-Palestinian conflict" and said the group was pleased the president denounced violence and called for Hamas to reject violence and recognize Israel.
He also welcomed "Obama's focus on Iran's confrontation with the international community over its nuclear weapons drive," but said the committee was disappointed that Obama "was not more explicit about the danger" of a nuclear-armed Iran.