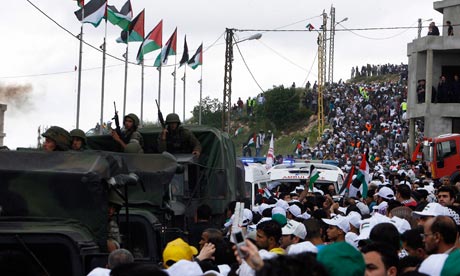 Lebanese soldiers patrol next to Palestinian refugees during demonstrations to mark the 63rd anniversary of Nakba Day at the Lebanese-Israeli border in Maroun al-Ras, 15 May 2011. Photograph: Hassan Bahsoun/EPA
The thousands of mostly Palestinian refugees were smiling as they joked about the strenuous climb, and helped each other up the mountain to reach the site where they were going to stage their demonstration. Some knew it could even be dangerous, but that didn't matter as much as the rare opportunity to join together and call for their rights.
The small elevated Lebanese village just overlooking the border with Israel became a massive parking lot as buses carrying Palestinian refugees and Lebanese from across Lebanon converged for a protestcommemorating what Israeli historian Ilan Pappé calls the "ethnic cleansing" by Zionist militias of more than 700,000 Palestinians from their lands and homes in 1948 – what Palestinians refer to as the "Nakba", or catastrophe. Large buses had difficulties reaching the top of the mountain, and rather than wait, protesters chose to make the half-mile climb by foot.
Men and women, young and old, secular and religious, were all present. This was the first time in 63 years that Palestinian refugees would go to the border in their tens of thousands and call for their right to return home. For most, it was their first time even seeing the land that they've grown up hearing described in precise detail through the popular stories of elders old enough to remember life in what is today considered Israel.